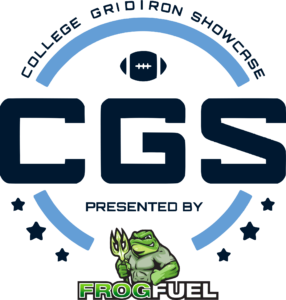 College Gridiron Showcase & Symposium Announces Presenting Sponsor Frog Fuel
Company, founded by Navy SEALs, will power 2022 CGS participants with strength and recovery-focused proteins as they showcase their talents before pro scouts and executives.
Fort Worth – The College Gridiron Showcase (CGS) has partnered with Frog Fuel to be the presenting sponsor of the 2022 annual college football all-star event in Fort Worth, TX this January.
Frog Fuel will be the official and exclusive supplement partner of CGS, which, in its seventh year, will showcase 325 draft-eligible seniors from schools of all sizes and top professional free agents.
Said CGS executive director Jose Jefferson, "Like CGS, Frog Fuel has reimaged the sports landscape and is quickly becoming among the nation's leaders in its respective category.  So much of our focus at CGS goes beyond Xs & Os, including empowering our participants with the tools they need to succeed at the highest levels.  We are proud to partner with such an established and proven brand to help meet that end when it comes to training and recovery."
The 2022 College Gridiron Showcase & Symposium, the FIRST major all-star event of the college football post-season, will be held January 8th  through 12th, 2022 in Fort Worth, Texas.
For more information, visit cgsallstar.com.
ABOUT FROG FUEL
Frog Fuel is designed to be the most powerful protein in the world. Developed by former Navy SEALs and a Stanford biochemist, Frog Fuel's medical-grade, nano-hydrolyzed collagen helps athletes recover faster, reduce injuries, and increase strength better than whey protein. It digests 4x faster than whey isolate and is ready-to-drink without any mixing.
Frog Fuel is proudly made in America and produced by OP2 Labs, a veteran-owned nutrition company based in Fort Worth, Texas.
ABOUT CGS
Since its inaugural event in 2015, more than 500 CGS participants have been offered pro opportunities. At the 2020 College Gridiron Showcase, scouts from 31 of the 32 NFL teams, all nine CFL teams, and other professional leagues were on hand to evaluate and meet with our players. In total, participants had the opportunity to showcase their skills to 150 professional scouts.
In addition to its on-field aspects, CGS also contains a strong professional football education symposium component.  Athletes are provided education through seminars relating to Financial Education, Life as a Professional Athlete, Player Expectations (on and off-field), first-hand accounts from former NFL rookies, social media responsibilities, and more.  For more information on the College Gridiron Showcase and the CGS Small School Invitational Showcase, please visit cgsallstar.com.
###